Logix Smart

TM




2019 (COVID-19)

El test Logix Smart™ COVID-19 es una prueba RT-PCR de diagnóstico in-vitro que utiliza nuestra tecnología única y patentada CoPrimer™ para la detección cualitativa del ARN del coronavirus SARS-CoV-2 (COVID-19) a partir de muestras obtenidas en el tracto respiratorio superior e inferior.
Representa un "AVANCE CIENTÍFICO" que logra una mejoría de 2,5 MILLONES de veces en la reducción de los errores de amplificación. El proceso de hibridación de CoPrimerTM permite la eliminación virtual de los dímeros de primers.
La incorporación de nuestra sonda RapidProvesTM al Coprimer incrementa en 2.5 veces la intensidad de la señal frente a la fluoroscencia convencional, mejora la precisión y la rapidez con un menor coste.
El producto patentado Hot Start de Co-Diagnostics es un aditivo que puede utilizarse en la PCR en tiempo real que mejora la sensibilidad y reduce los falsos positivos.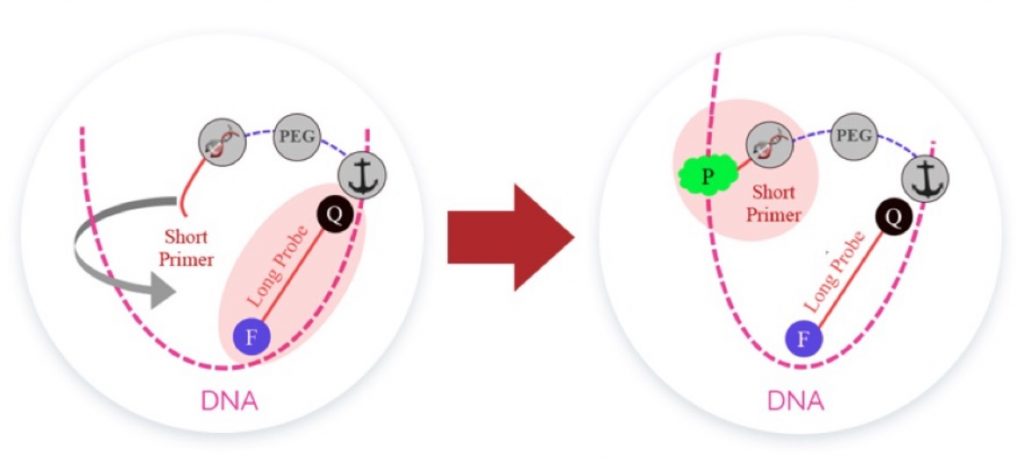 La tecnología patentada

CoPrimer™ Cooperativity

es una innovación revolucionaría en los tres principales objetivos del diagnóstico molecular
Reducción los costes de investigación,
diseño y desarrollo, en un 80%.
Referencias:
Poritz, M., & Ririe, K. (2014, Mar). Getting things backwards to prevent primer dimers. Journal of Molecular Diagnosis, 159-62. doi:10.1016/j.jmoldx.2014.01.001
Satterfield, B. (2014, Mar). Cooperative primers: 2.5 million-fold improvement in the reduction of nonspecific amplification. Journal of Molecular Diagnosis, 163-73. doi:10.1016/j.jmoldx.2013.10.00
Certificados:
In February 2020, the Logix Smart COVID-19 test set received CE mark approval,
On April 3, 2020, the Logix Smart COVID-19 test kit obtained Emergency Use Authorization (EUA) from the Food and Drug Administration (FDA) for use in the diagnosis of SARS-CoV-2.
Características del producto
Patentes:
Patent.no. 10,093,966 "COOPERATIVE PRIMERS, PROBES, AND APPLICATIONS THEREOF" covers the method for synthesizing a nucleic acid molecule in the structure first developed by Dr. Satterfield in 2012.
UK Patent no. GB2480792 "ENERGY TRANSFER HAIRPIN OLIGONUCLEOTIDE PROBES" was announced in the Patents Journal on 14 November 2018. The patent is related to assays for nucleic acid detection in a specific way to increase reaction kinetics, while maintaining a simple, proprietary continuous sequence probe design, called a RapidProbe, and low-cost synthesis. Detection of a target occurs in conjunction with nuclease cleabage of the probe.
Patent no. 9,410,189 "METHODS OF PREVENTING NON-SPECIFIC REACTIONS OF NUCLEOTIDE SEQUENCES" was granted in August 2016 and covers the methods of nucleic acid amplification, including methods of preventing non-specific reaction of a nucleotide sequence with a DNA modifying ezyme.
Prueba cualitativa de RT-PCR en tiempo real para la detección del gen RdRp del SARS-CoV-2 (COVID-19).

Líquidos del tracto respiratorio inferior (lavado broncoalveolar, aspiración traqueal y esputo)

Técnico de laboratorio capacitado en procedimientos de diagnóstico molecular

Límite de detección (copias/ml)


Clinical Matrix used for analytical verification

Líquido del tracto respiratorio inferior (Lavado Broncoalveolar (BAL) y esputo), líquido del tracto respiratorio superior (Líquido Naso-faríngeo), y suero

Especificidad analítica
(wet-test or in silico analysis)

NO reacciona de forma cruzada con los siguientes microorganismos:
SARS-CoV, MERS-CoV, Coronavirus humanos (HCoV-229E, HCoV-OC43, HCoV-NL63, HCoV-HKU1), Adeno-virus, Gripe A H3N2, Nueva Gripe A H1N1, Gripe B, Gripe C, Parainfluenza 1, Parainfluenza 2, Parainfluenza 3, Virus sincitial respiratorio (subtipo A), Virus sincitial respiratorio (subtipo B), Parechovirus, Candida albicans, Corynebacterium diphtheriae, Legionella non-pneumophila, Bacillus anthracis, Moraxella catarrhalis, Neisseria elongata, Neisseria meningitides, Pseudomonas aeruginosa, Staphylococcus aureus, Streptococcus salivarius, Leptospirosis, Chlamydia psittaci, Coxiella burnetii (Q-Fever), Staphylococcus epidermidis, Enterovirus, Rhinovirus, Haemophilus Influenzae, Mycobacterium tuberculosis, Bordetella parapertussis, Mycoplasma pneumoniae, Chlamydia pneumoniae, y Legionella pneumophila

Termocicladoras
compatibilidad

CoDx Box (Bio Molecular Systems) Eco 48 (PCRmax)
2 channels: FAM and CF610 (ROX)
* Los cálculos se basan en 360 réplicas de muestras artificiales utilizando la plantilla de ARN sintético del SARS-CoV-2
Contenido pedidos



Logix Smart TM COVID-19 Master Mix

Ready-to-use mixture that includes a proprietary blend of buffers, Hot Start Taq polymerase, and labeled and unlabeled CoPrimers.

100 reactions (500 µL) or
250 reactions (1250 µL) or
5.000 reactions ( 25.000 µL)

Logix Smart TM COVID-19 Positive Control


Mixture of synthetic SARS-CoV-2 RNA templates, and a DNA RNaseP template.

100 reactions (500 µL) or
250 reactions (1250 µL) or
5.000 reactions ( 25.000 µL)

Nuclease Free Water. Water Free of RNase (ribonuclease) or DNase (deoxyribonuclease activity.)

100 reactions (500 µL) or
250 reactions (1250 µL) or
5.000 reactions ( 25.000 µL)
Información para pedidos
| | |
| --- | --- |
| Logix SmartTM Coronavirus Disease 2019 (COVID-19) CE-IVD kit 100 rxns | |
| Logix Smart Coronavirus Disease 2019 (COVID-19) CE-IVD kit 250 rxns | |
| Logix Smart Coronavirus Disease 2019 (COVID-19) CE-IVD kit 5000 rxns | |